On Sunday (23rd November) I organised a day trip for some of the ladies from Liverpool Sewing Club to the Knitting & Stitching Show over in Harrogate. It was a very full on & long day and now I'm feeling sufficiently recovered to be able to write about it! This is the third time we've attended and a tip to the show, fooling by dinner at Betty's Team Rooms is now starting to become a sewing club tradition.
The drive over to Harrogate took a few hours and after a little drama finding somewhere to park we got started on a visit to the Harrogate Knitting & Stitching Show. The show can be a tad overwhelming as there is so much to see with the exhibitions and stalls split across a number of different halls on the ground floor and then downstairs to the workshops, university fashion students display areas & refreshments area.
Exhibitions
There were lots of exhibitions to see and unless you visit for a couple of days there just isn't enough time to visit all the exhibitions and stalls. As I'm a dressmaker I felt drawn to the 'Black Sheep – The Darker Side of Felt' exhibition, especially as the lead item was this purple felted dress.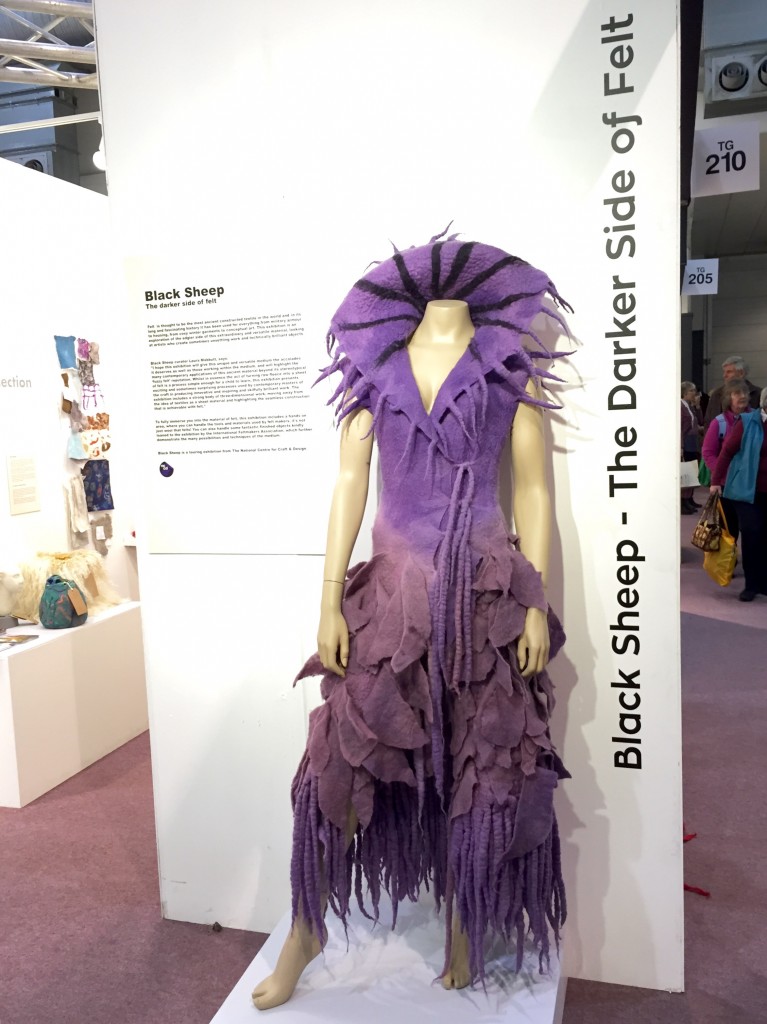 The exhibition explores the edgier side of this extraordinary and versatile material. More information about the show can be found on their blog: https://blacksheepfelt.wordpress.com/2014/03/22/about-the-show/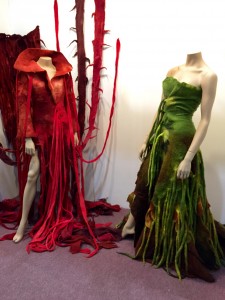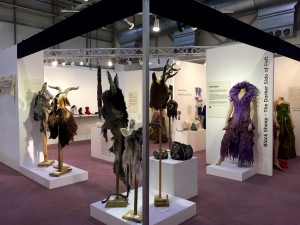 Downstairs there was a number of displays showcasing the fabulous work of fashion and textile students from a number of different universities and colleges: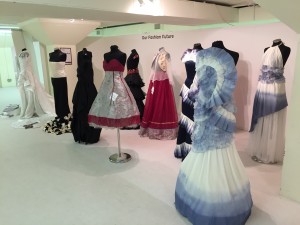 Stalls
The wide range of stalls at this years show spanned 3 different large halls, offering a wide range of knitting and stitching supplies and services. Nele was looking to buy an overlocker, so spend a fair amount of time at the sewing machine stalls and eventually managed to get a great deal on a Janome, which she is very excited about being delivered soon! A few of my favourites stalls:
I love the rainbow of bright solids on display here as well as the textured basics. Pollie bought some of the 505 spray for basting as they're one of the cheapest around for this and it can difficult to buy online due to legal restrictions on posting aerosols! Had a good natter with the lovely Lisa and Helen who was helping out due to Justine's rather recent delivery of her daughter
I always make sure I visit these at any sewing shows as they usually have bold bright abstract fabrics, according to the staff they are Italian silk designs printed onto high quality cotton. I love these designs and the cotton is soft and silky, an example can be seen in the back of this photo. Unfortunately as this visit was in the afternoon of the last day of the show they'd sold out, so no purchase for me this time!
I love the fabrics available from Japan Crafts, so unusual with beautiful intricate designs. They also sell great craft kits to make some unusual bags and brooches. I've bought the Kanzashi Flower Brooch Kit and some of their unique mini charm packs from previous shows which I've made into the flap on a messenger bag and an autumn themed cushion. I bought another one from the show as it was really pretty but not sure yet what it'll be come!
Simple way sell unique leather kits so that you can make your own leather bags and accessories. I've already made a purple and green leather satchel from one of their kits which I love and get lots of compliments on. The kits are great value and work out a lot cheaper than a mass produced, machine made commercial leather satchel. Plus you get to say "I made this" and get all the compliments! The kits come with everything you need, even including the blunt needle and leather thread to sew with.
I decided to treat myself to another kit at the show but wanted something a little different from the satchel, so went with the Monet Messenger Bag Kit. You can also buy these on their website and just choose a colour and it'll be sent out to you in the post. However as they make these kits themselves and the staff are lovely and friendly they'll let you customise he kit, which is what I did last time by ringing them. This kit I have chose the bright pink leather as the body and then they'll add a buckle to the flap for me as I'm not comfortable without a proper fastening on a bag. I chose both the buckle and strap to be in black leather, and added a shoulder pad top make it more comfortable as I tend to put loads of stuff in my bag! The shoulder pad will be in the pink to match the bag body. All of that for just £44, isn't that great value! So excited for my kit to be delivered in a few weeks.
I always like to have a look at this stall as they always have a great selection of Liberty Fabrics and Alexander Henry Fabrics. I love both of these designers, the abstract designs of some Liberty and the soft luxurious feel of their tana lawn whilst the unusual, fun and often daft designs of Alexander Henry always keep me intrigued. I just loved this "Virgin Of Guadalupe" design of Alexander Henry's and was very tempted to buy half a meter as I reckon it'd make a fabulous messenger bag flap!
Workshop – Perfect Fit & Finish, Bust & Neckline
This year I chose to do a workshop along with Nele. The workshop was run by Gillian Hargreaves from The Yorkshire School of Sewing. Gillian is a very good teacher, patient, well spoken and happy to explain things. However I was rather disappointed with the class. I expected to learn how to fit a bust and neckline, and all I really learnt was how to sew a curve and how to under stitch, both of which I could already do. The fact that the sewing machines provided by the show clearly weren't checked or in full working order was also disappointed. A number of them still had the free machine embroidery feet on from the previous class, so students had to waste precious time changing them back. Also my machine had been left on an odd stitch, so didn't sew properly at first. After a 'reboot' it started sewing correctly but the started skipping stitches and gathering the fabric so badly that I had to unpick it twice and ended up missing what Gillian was saying! Another lady had left the class early, so I was able to use her machine and Gillian was very happy to help me catch up.
Therefore I would recommend investigating thoroughly what is to be taught in a class before signing up and I don't recommend taking a class on a Sunday as the sewing machines don't appear to be very well taken care of over the weekend and by Sunday afternoon, are too tired!
Swag
This least amount I've ever come home with from a sewing show, partly due to time spent at the workshop, having an injury to my foot, which meant walking slowly round as well as M Rosenberg not having any of the Italian cotton left. However I did also make a purchase from Simple Way who will deliver my kit in approximately 3 weeks.
After a long day the Knitting & Stitching Show it's great to retire to Betty's Tea Rooms for dinner and of course a glass of mulled wine and a selection from the dessert trolley! This visit is now becoming a sewing club tradition and was greatly enjoyed by all of us. A great way to finish up a great visit to Harrogate.
Did you visit the show this year? What did you think? What were your highlights? Please go share in the comments below.
---