The Great British Sewing Bee Live 2017
Myself and my friend from Liverpool Sewing Club Jan visited the first ever Great British Sewing Bee Live at the Excel in London a fortnight ago and it was AMAZING!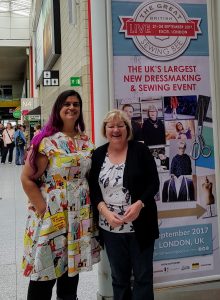 We travelling down in the Friday, visited Liberty and went to see Kinky Boots the musical in the evening. The show is fabulous and we have brilliant seats in row B so had a great view. I'd definitely recommend seeing it and if it goes on tour and comes to Liverpool I'll definitely be going again!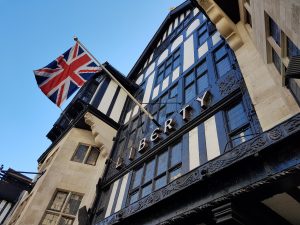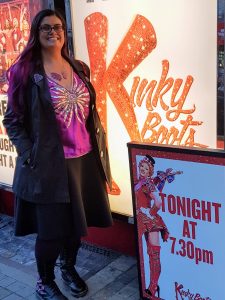 We then spent the whole weekend at GBSB Live and am very glad we bought two-day tickets.Although I do kinda wish we'd waited till closer to the time to book them as we paid almost £30 each and there were some great discounts later. At least booking so far in advance meant we got spaces on two great workshops: The Maker's Atelier Origami Top with Claire Tyler and Perfect Piping with Celia Banks, I'll go into more detail later in this post.
Saturday
I wore the new dress I'd made specifically to visit the show, using the amazing Alexander Henry Home Sewing is Easy fabric from Fabrics Galore!.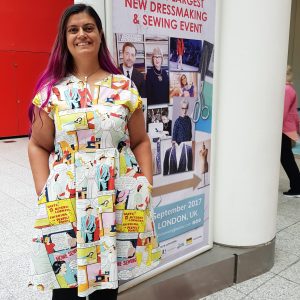 As we were wandering along the waterfront from our hotel to visit The Great British Sewing Bee Live at the Excel, we met the lovely mother and daughter Julie & Stacie: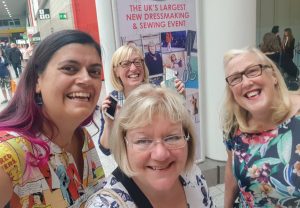 We had a plan to work our way round the stall methodically but got distracted by shiny things, oops! I did have fun over at the Love Sewing Magazine who had a magazine cover to pose in front of and become a 'cover star'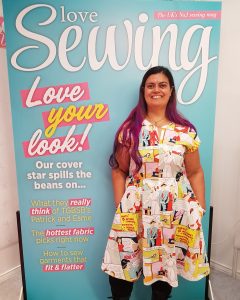 We also bumped into the lovely Paul Clarke (season 3 GBSB contestant) and his partner Neil. Paul does a lot of demos at my local fabric store Abakhan Fabrics in Birkenhead, so I've met him a few times and he's a fab bloke with rather similar taste in fabric to me!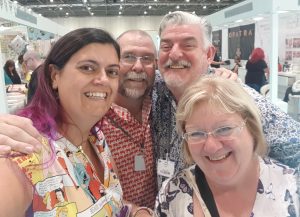 More random wandering took us to the 'Absolutely Fabulous – Creating the Costume!' exhibit, which I browsed whilst Jan chatted to Debbie Shore on the Create & Craft stand.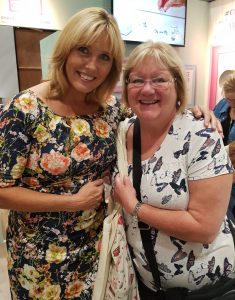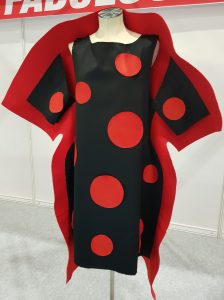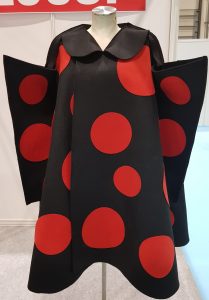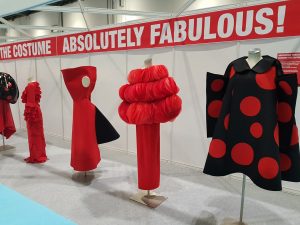 Met up with the lovely Kara and wandered round the stalls, spending way too much money and enjoying the fabulous displays on goods on sale.  How stunning is this dress and dolls from Sew La Di Da Vintage!?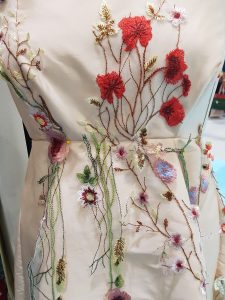 Also had to pop along and see Stitch Fabrics after being one of the first to tell them about the show and make sure they were visiting!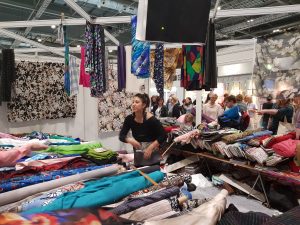 I also saw the lovely folks and Fabrics Galore and met my headless twin!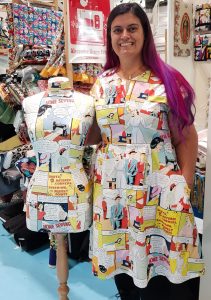 We then spent the afternoon doing a workshop with Claire Tyler making the Makers Atelier Origami Top. I'll blog about the workshop and the pattern at a later date, as I need to do a little finishing off on the top. Claire is a great tutor and can happily recommend her classes. Myself and Jan enjoyed making the top and they came together so quickly that we actually ended up running out to Doughty Fabrics, buying another meter of jersey and making a second one!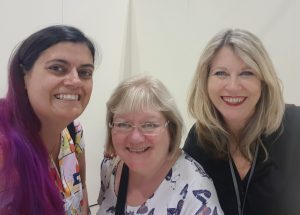 After the workshop we popped round to see the lovely Melissa of Fehr Trade and her stunning sportswear pattern range. I even ended up buying the 'Knot-Maste Yoga Set' pattern! (although it could be a while before I make the trousers as my bum's too big for the pattern, oops!)
We then met up again with Kara, Julie, Stacie and Beatrice and went to the pub for tea (of course)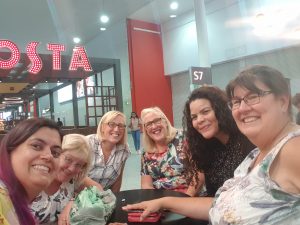 Sunday
We tried to be more logical in our approach on Sunday and started at Melissa's stall then worked our way round, however 11am was quickly upon us and we had to take our seats for the Super Theatre. Jenny Eclair was an amazing host as she introduced the alteration challenge contestants, each working with a former Sewing Bee contestant. The GBSB judges Patrick Grant & Esme Young were then interviewed, and Lauren Guthrie provided a demo on using snaps. The winners of the alteration challenge were announced and the hour was over!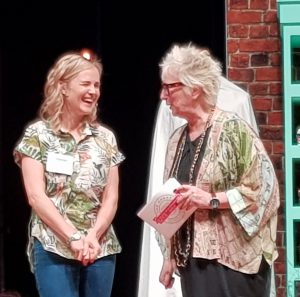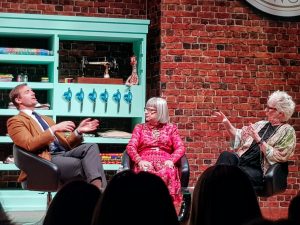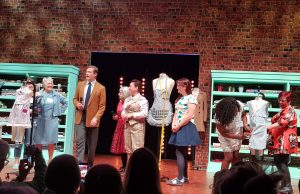 A little more wandering, a bit of lunch and it was time for our second workshop. This time with Celia Banks of Sew Fundamental – Perfect Piping.  Having never done any piping before I was a tad nervous but it was great to see a familiar face in the form of Harriet and her mum Lindsay who were my sewing buddies at The Sewing Weekender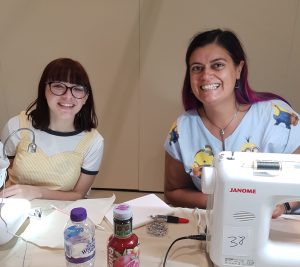 The workshop went really well, Celia is a great teacher and I learnt loads and found that piping wasn't as scary as I thought and I'm looking forward to adding it to any future projects.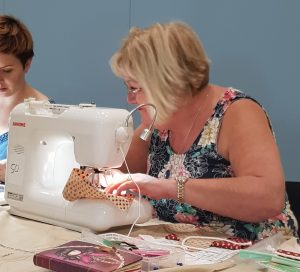 We visited Love Sewing Magazine , so I can be a coverstar again and I decided to sign up for a subscription.
Wandered round a few more stalls and had a lovely chat to Laura from Sew Different and bought her Everyday Chic Dress pattern.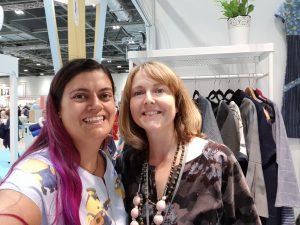 We then decided it was time to watch the final fashion show of the day, with patterns from both the 'Big 4' and the independant designers with stands at the show: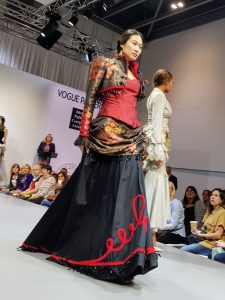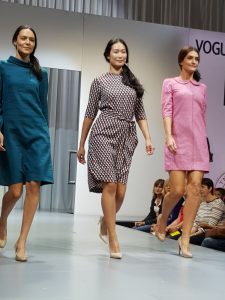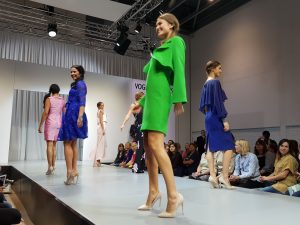 Caught a quick glimpse of Lauren in the Live Demo Theatre: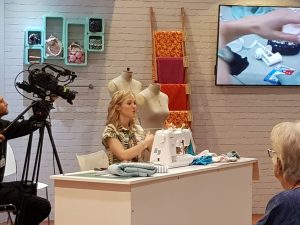 By this time myself and Jan were all shopped out, so decided it was good time to take advantage of the Champagne Bar: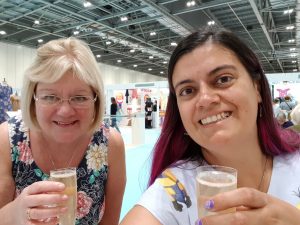 The Vintage Gallery was amazing, full of amazing Liberty garments, I've picked out a few of my favourites: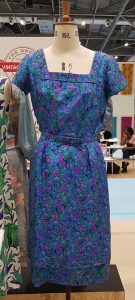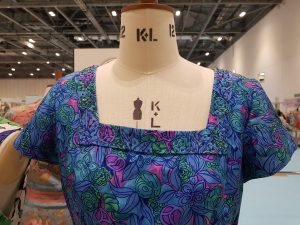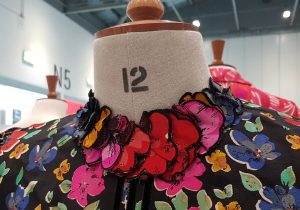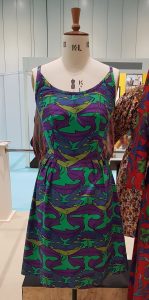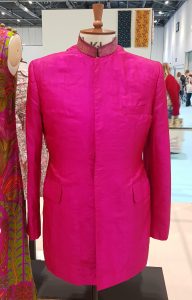 A quick wander round the Bees Gallery was great to see some of the garments from the show up close.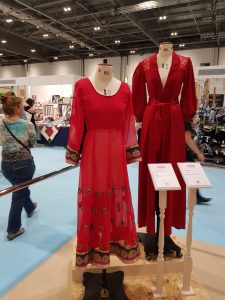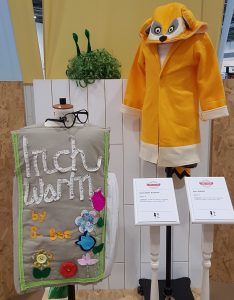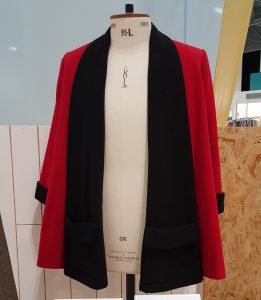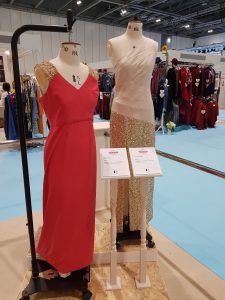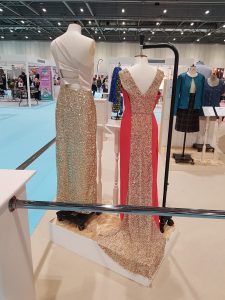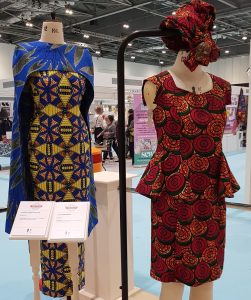 Then time for the return train trip home! Although I can't finish this without showing you all my purchases from the show.
Myself and Jan had a great weekend at The Great British Sewing Bee Live, it's so good to see a dedicated dressmaking only show, finally!. I loved every minute and am really hoping to be able to afford a visit next year. Although I do wish they would follow in the style of The Knitting & Stitching Show and have one up North as well, so I can spend more money on fabric and less on travelling and accommodation! 🙂
---
---