This year has been a very hectic one for me as I've started a new job, had a few health issues and also had building work done on my house. This has resulted in me blogging less than I intended, although I have had some time for sewing but usually a little last minute when i need something for an occasion, oops! So I thought I'd do a round up of my sewing projects from this year, with little explanations about them.
1.Dad's Batman upcycled waistcoat: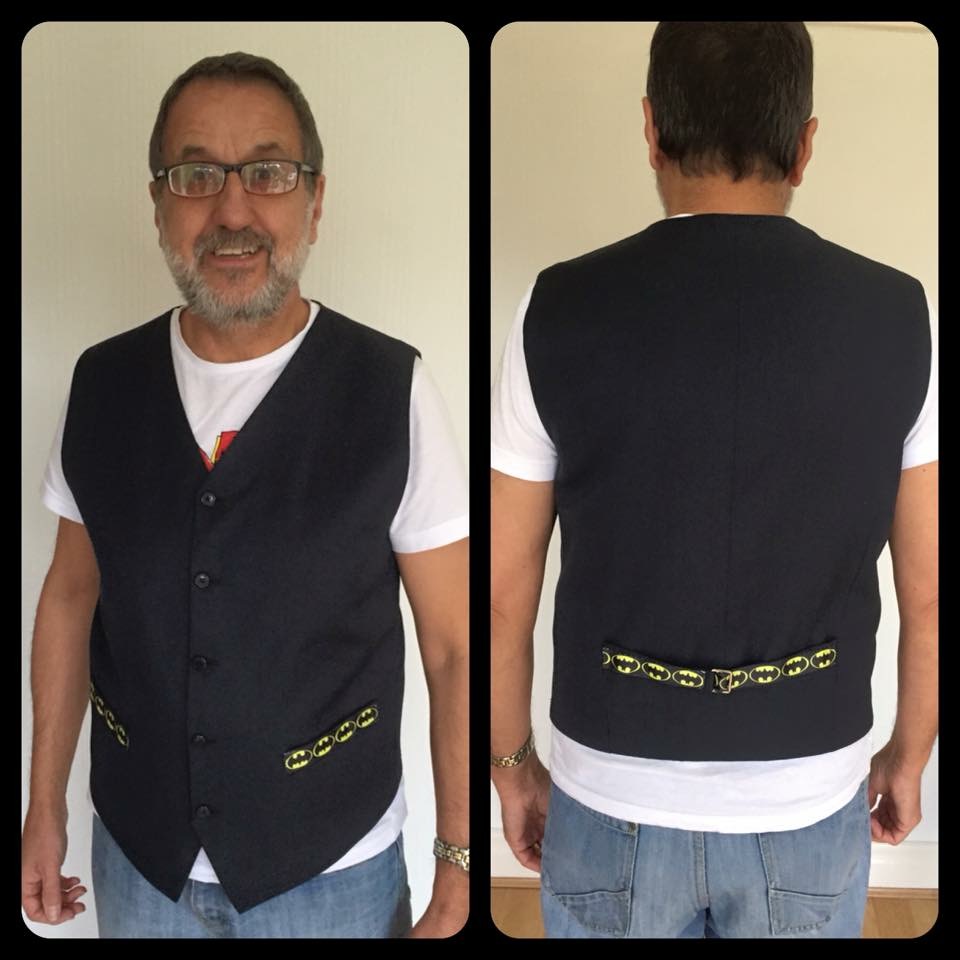 My dad wanted a fun waistcoat to wear to work (he's a teaching assistant) but that wasn't too over the top. I decided to upcycle this plain black charity shop waistcoat, with some Batman ribbon. My dad loved it and so do the kids at his school!
2. Zara's tiny baby blanket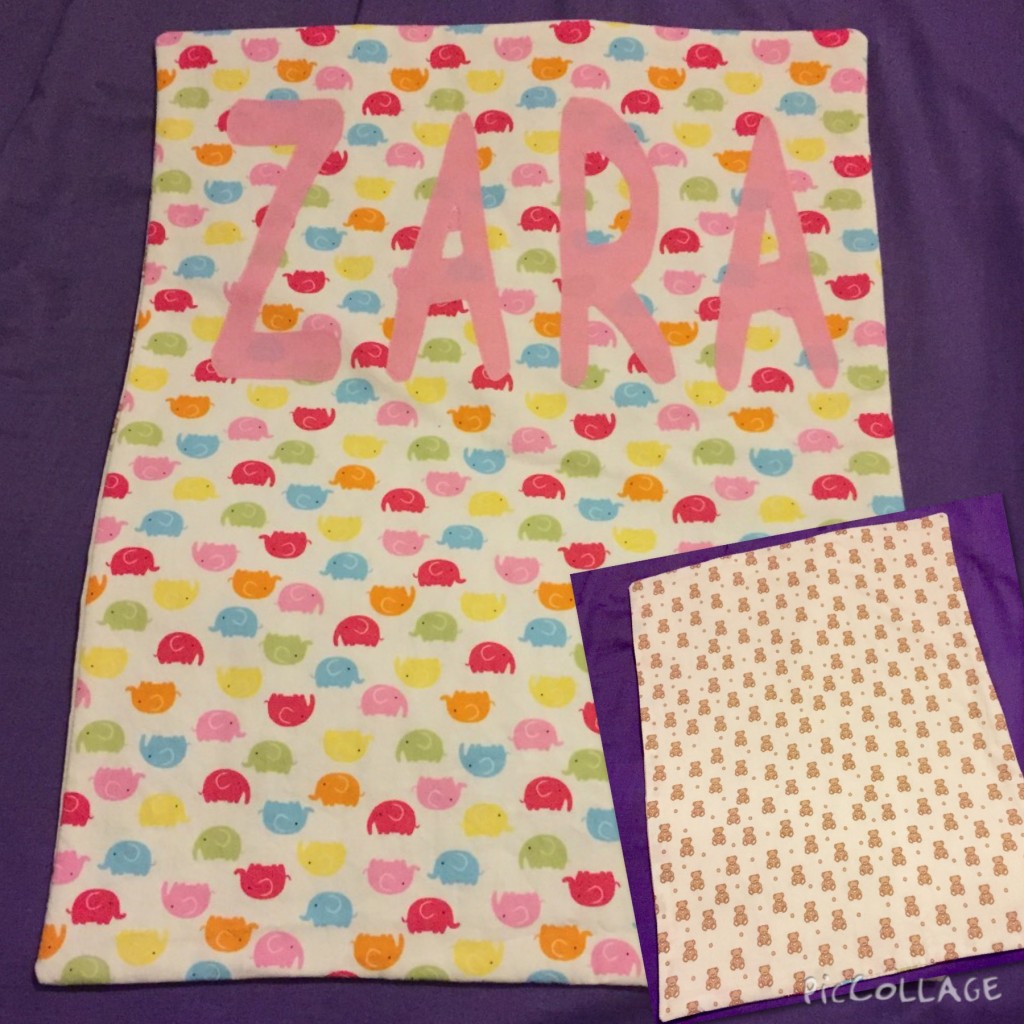 My friends Ije & Si's little daughter Zara was born at just 27 weeks in January and therefore spent the first 3 months of her life in the Special Care Baby Unit at Arrow Park Hospital. I therefore decided to make a personalised baby blanket for her to use. Because of her delicate skin I researched premature baby blankets and only used top quality cotton fabrics and sourced some top quality pure cotton wadding from Simply Solids for the filing.
3. Zara's incubator covers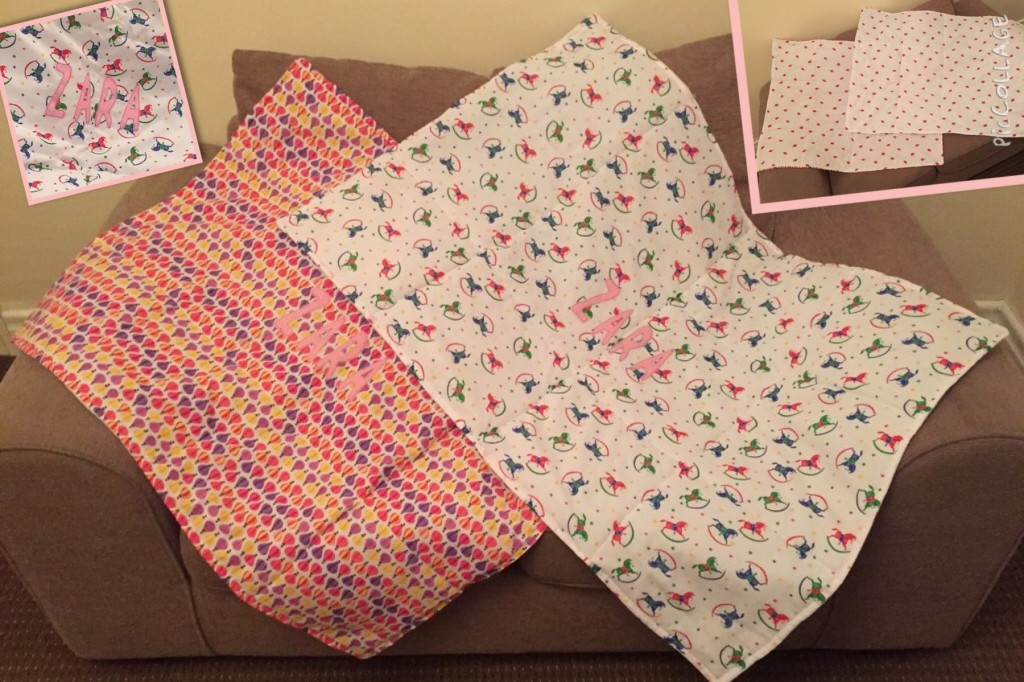 In SCBU the babies incubators were often covered in order to provide some shade and darkness for these little babies that should really still be inside their mummies tummies! There were generic boring hospital issued ones, so I decided to make personalised ones for Zara. After checking the dimensions required with the nurses in the SCBU and know that Ije loves right colours, I made these two fun covers, 1 with a balloon polycotton and  the other with rocking horse polycotton, both and both were backed in a strawberry polycotton and filled with synthetic wadding, all from Abakhan Fabrics. I appliqued Zara's name onto both to add that personal touch.
4. Zipper pouch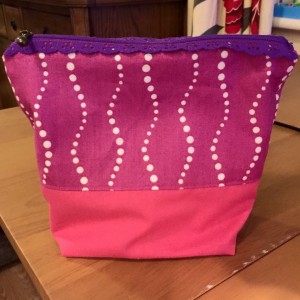 I took part in my first ever swap this year and this is the practice pouch I made for my swap partner. Very much me colours and love the little lacy zip closure.
5. Julia cardigan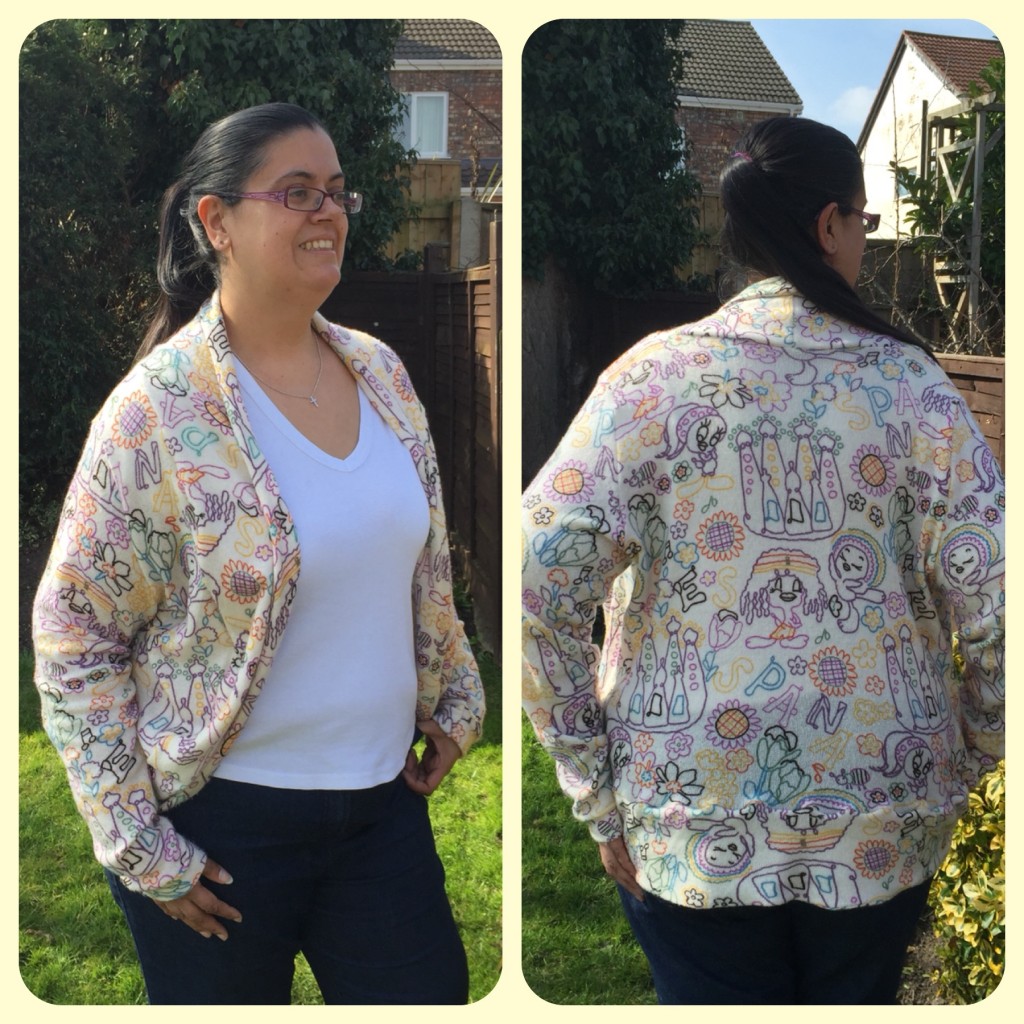 Time to get back to the dressmaking and selfish sewing, so I made myself a version of the Julia Women's Cardigan. The pattern is from Mouse House Creations and the funky fabric, which appears to have a Spanish theme, is from Abakhan Fabrics. This is pretty easy to make, all sewn together on the overlocker and is very comfortable to wear, love the fact that the sleeves are actually love enough for little miss monkey arms here! 🙂
6. Dad's saxophone padding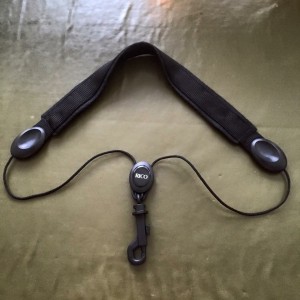 Not the most exciting of sewing projects but very practical! My dad is learning to play the saxophone and finds the neck strap rather uncomfortable. Therefore i used some black fleece to back the strap to make it more wearable.
7. Wedding bunting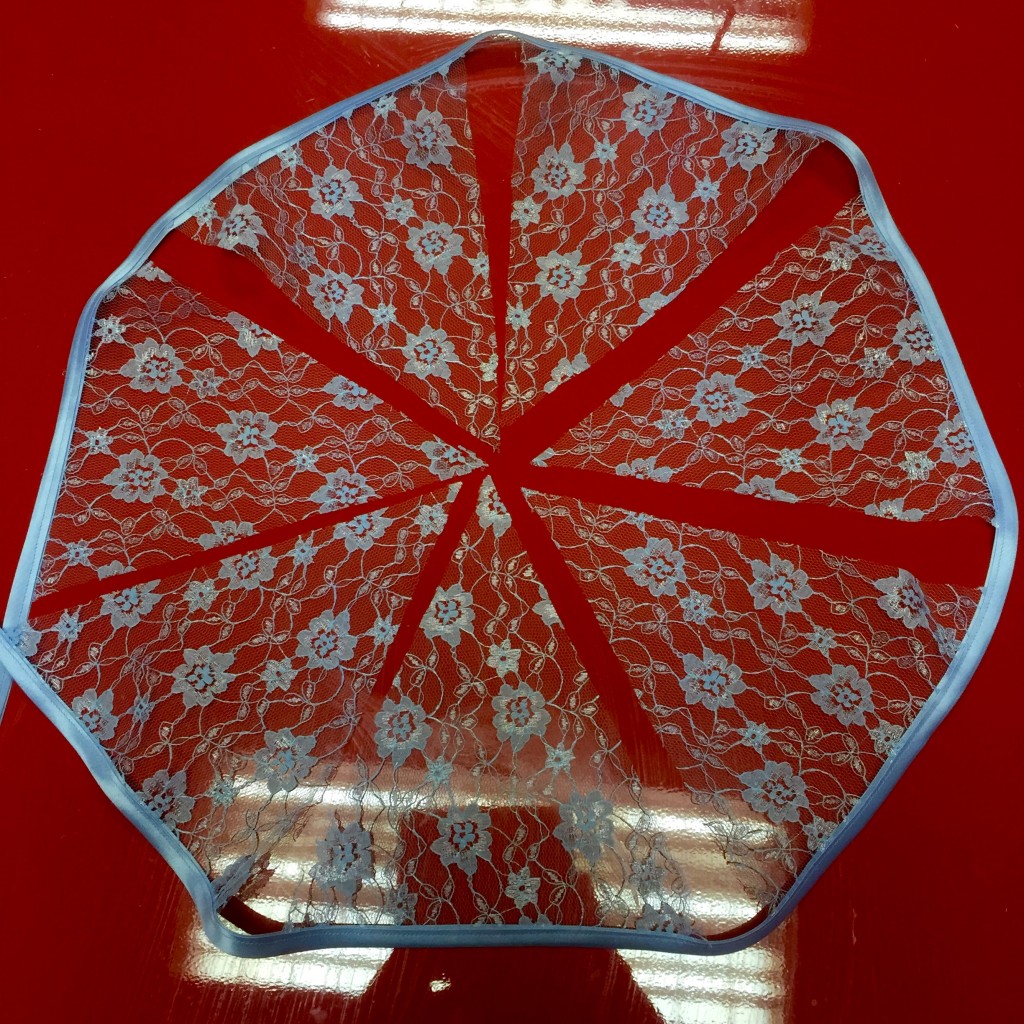 My friends Jenny & Adam got married this year and I asked if there was anything they would like me to make as a wedding gift and Jenny requested bunting to decorate the top table. I found this beautiful blue lace online and used blue satin bias binding to make 10 foot of bunting.
8. Wearable Wedding guest toile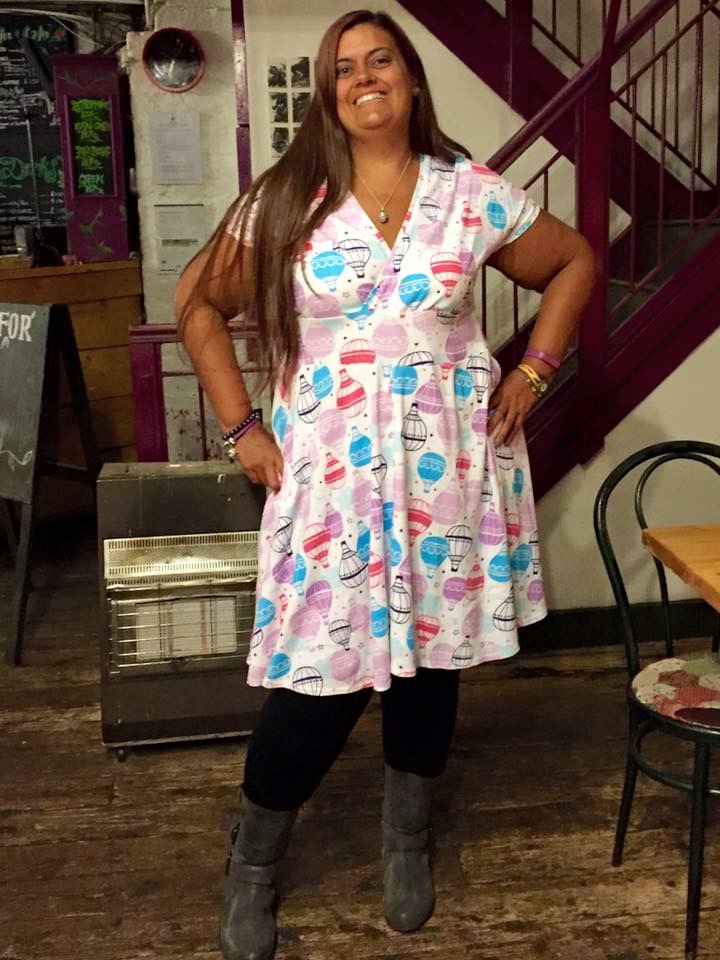 I wanted to make a new dress to wear to Jenny & Adam's wedding, so used this funky hot air balloon from my stash (originally from Abakhan Fabrics) to make a toile, to ensure the fit was right before making the actual dress. It's good fun and the fit isn't too bad but I did shorten the bodice by 1″, remove the side inseam pockets and lengthen the final dress by 3″
9. Wedding guest dress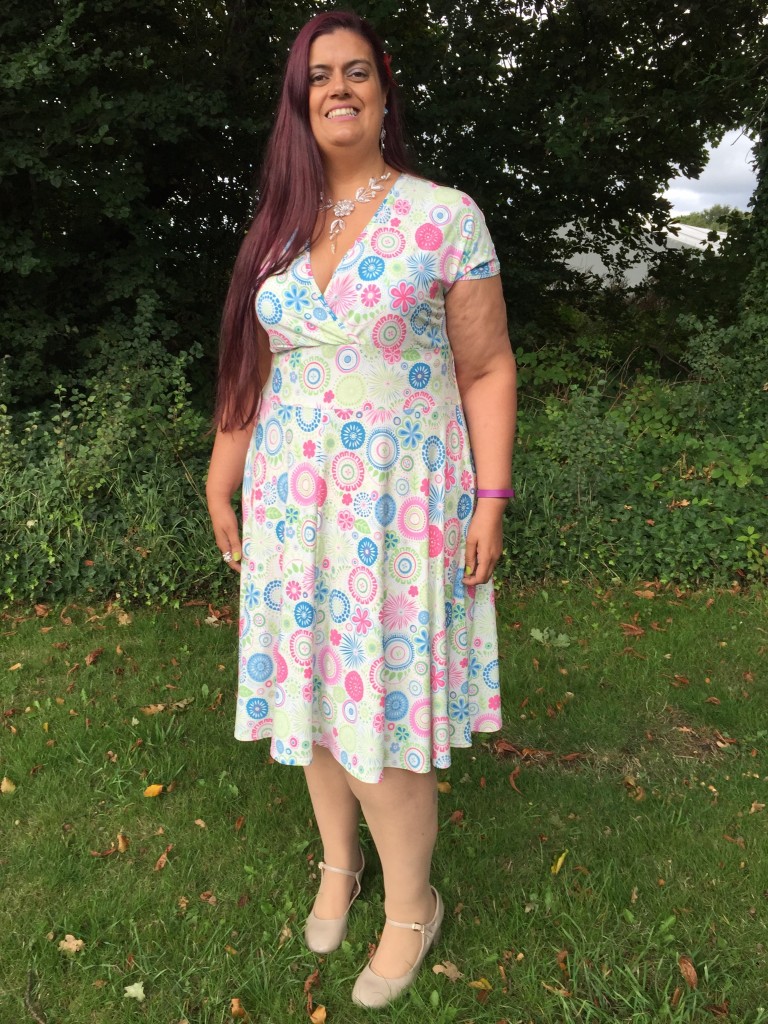 This is the final dress i made to wear to my friends Jenny & Adam's wedding. The fabric is a Liberty jersey from Sewbox and the pattern is the Tiramisu dress from Cake Patterns. I'm really please with the fit and shape of the this dress after making the changes discussed an the toile version. It was also very comfortable to wear all day and of course the flowing skirt was great for dancing the night away in.
10. Handmade holiday – beach cover ups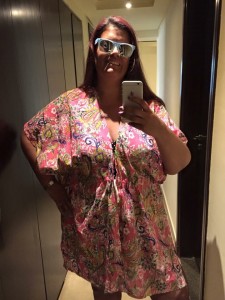 I went on my first beach holiday in almost a decade this year, so deiced to make a number of items for my holiday. I'm rather self concious, so deicded to make these three beach coverups from light weight cottons and vopiles. The fabric was all from my stash and i used this tutorial Board & Crafty but altered it to make it much longer than the tutorial states. I had a great time in Sharm-el-Sheikh and would love to visit again.
 11. Handmade holiday – simple maxiskirt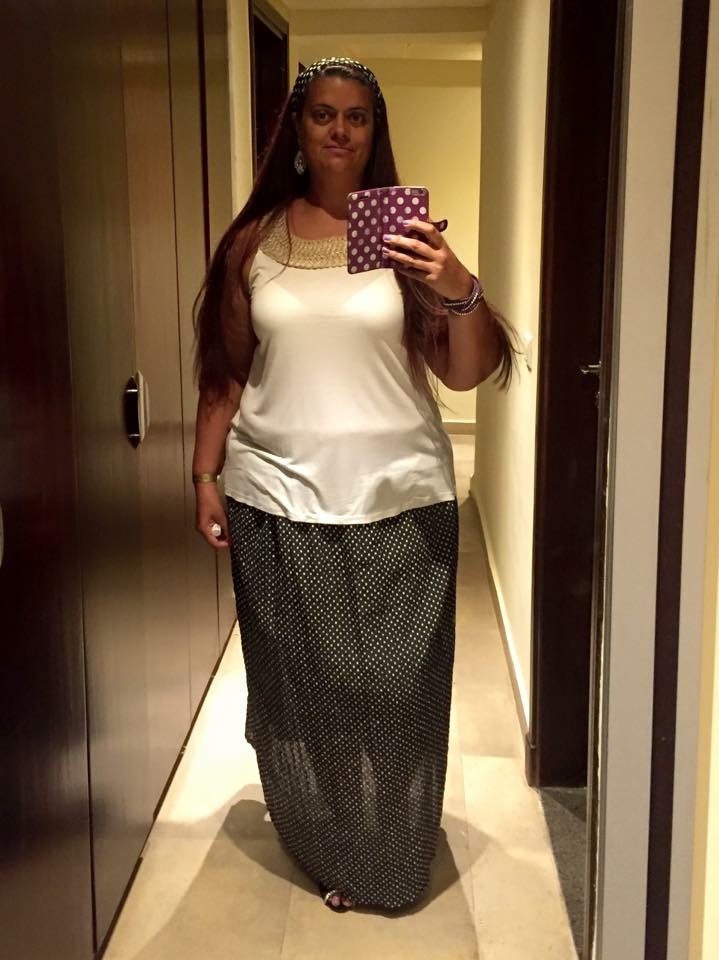 I don't really wear maxi skirts very often but decided to try one for my holiday. I have lots of this lovely black polka dot lightweight cotton which I bought in the Abakhan Secret Sale, which I have previously blogged about. I then used this DIY Maxi Skirt Tutorial from Sew Caroline but I did hem mine as I wasn't used a jersey fabric, like she had.
12. Handmade holiday – maxiskirt upcycle
I loved this maxi-dress that I bought from Asda years ago but never wear it as being very pear shaped although it fit me well on the hips it was way too big on the bust, so it just sat at the back of my wardrobe gathering dust! I decided to convert it into a skirt instead! I pinned it at a suitable length, then added 2.5″ and then cut off the bodice. I then turned over 1.5″ at the top and sewed and inch wide channel  and feed in a piece of 1″ wide elastic that I had already worked out would hold up the skirt but stretch enough to get on & off. Hey presto – one new, usable maxi skirt!
13. Liberty Sorbetto top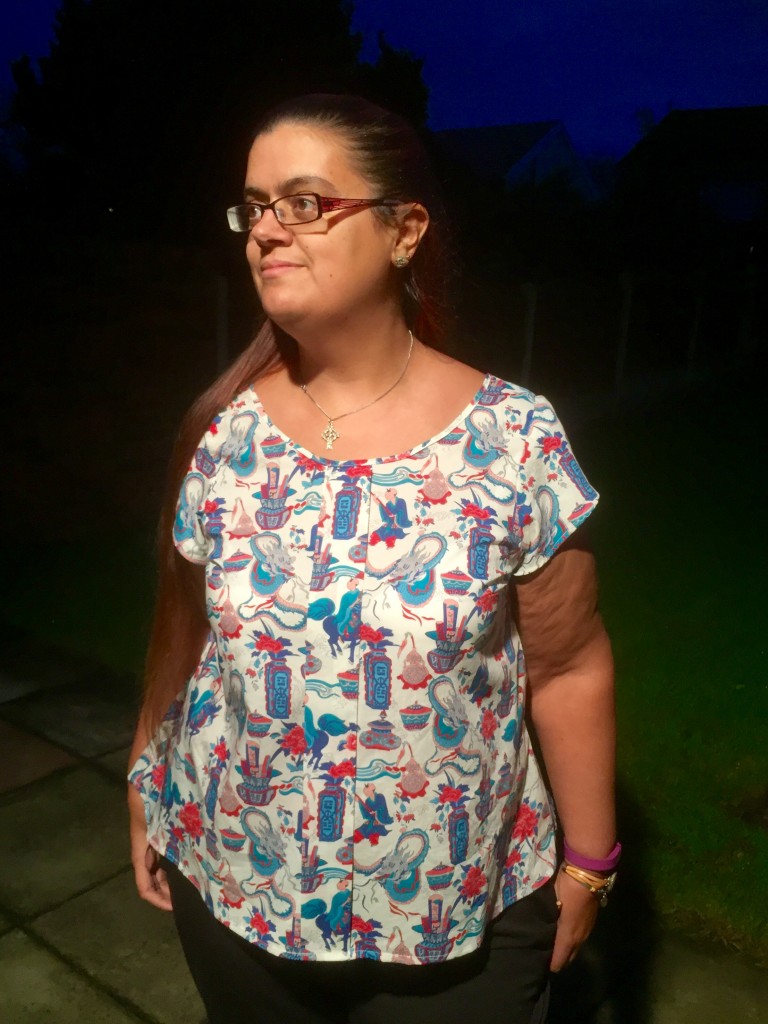 As I recently blogged about Abakhan Fabrics have recently had 22,000 meters of clearance Liberty fabrics delivered which they are seling at great prices. I chose to work with the Dragonista tana lawn to make a top and in order to show off the beautiful fabric wanted to pattern that had simple clean lines without too much fuss. Therefore I decided on the Colette Sorbetto pattern. However as I don't suit loose sleeveless tops at all I chose to add the Sorbetto sleeve pattern by Sew Incidentally and then made a few alterations to the pattern to fit and suit me better. More info is available on the blog post I wrote about it here
14. 3 quick cushion covers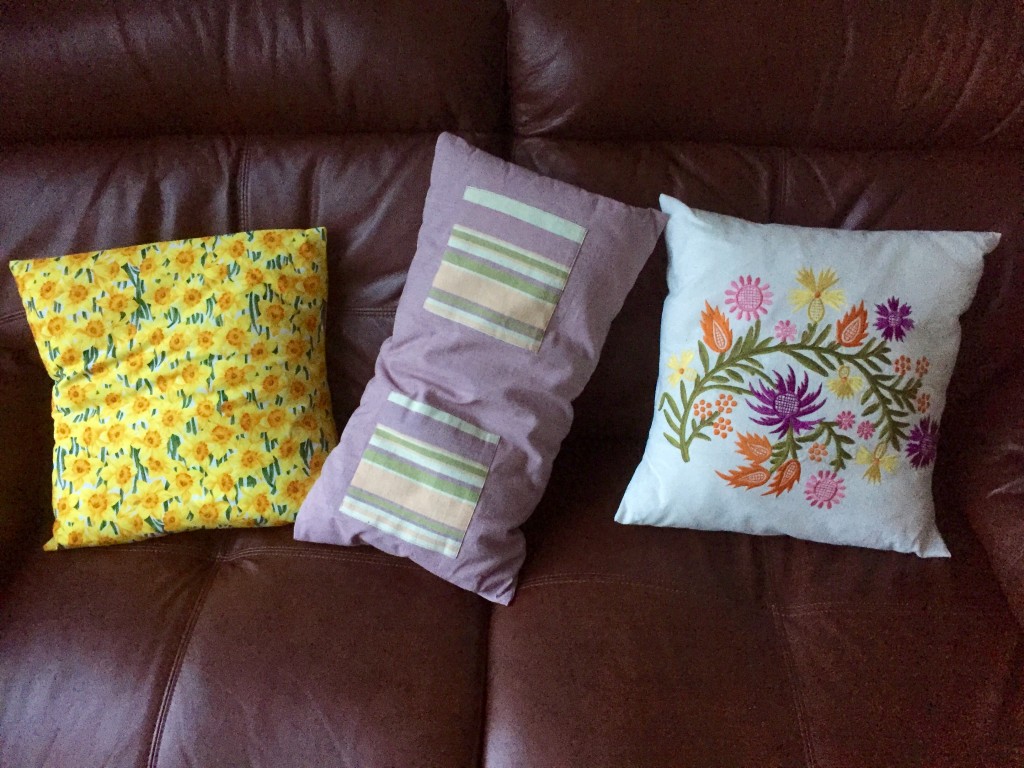 I decided to sell off some of my fabric stash recently at my church's Christmas Market. SO I made some samples of quick & easy cushion covers to make. I used this tutorial from The Happy Housie for the 1 piece envelope cushions – the purple rectangular one & the embroidered cushion. I then used this tutorial from The Wonder Forest to make the yellow daffodil envelope cushion as it has different fabric on the back and front.
15. Liberty infinity scarf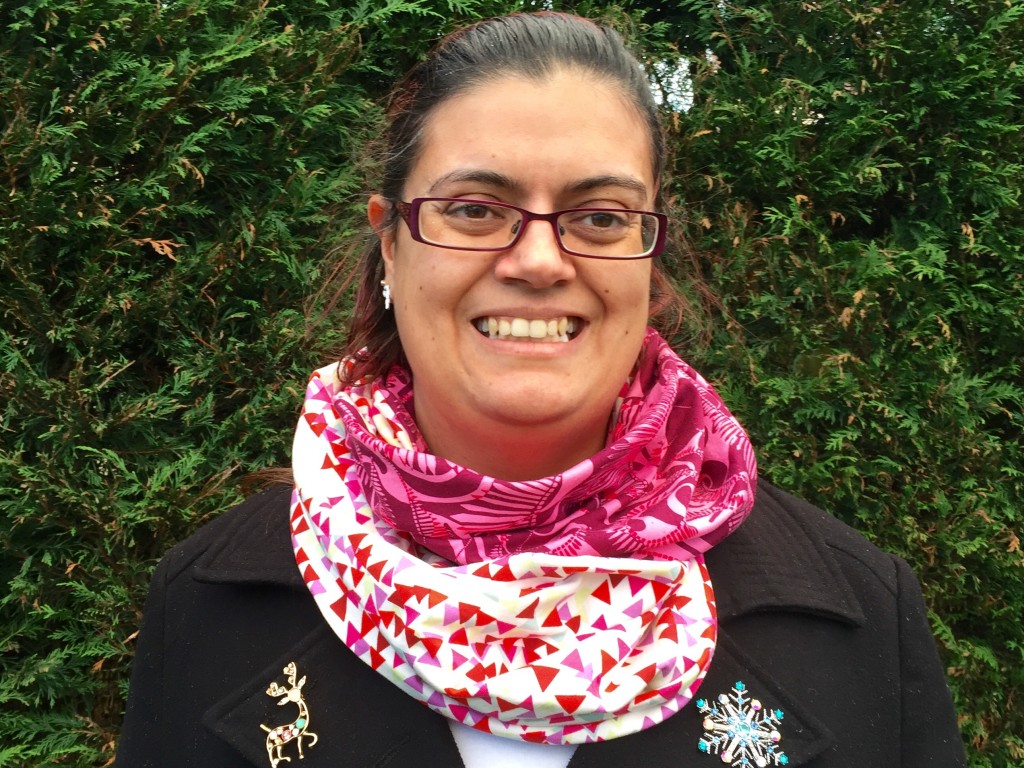 Abakhan Fabrics then received even more clearance Liberty fabric in, this time including the tana jersey. I chose to work with 2 of these coordinating jerseys to make this snuggly infinity scarf, which I've blogged about here previously. It's a great fabric to work with and very warm and comfy scarf to wear.
16. Christmas day top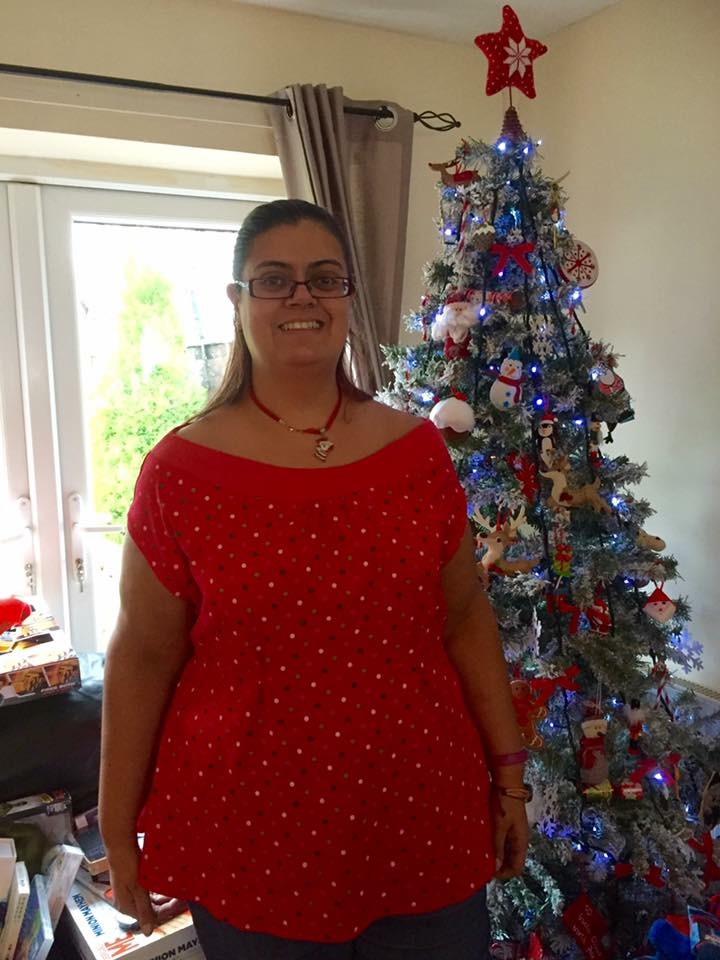 I saw this red jersey with little green and white polka dots on in Abakhan many years ago when i was pretty new to sewing and it just called out Christmas Day top to me, so that's what I started making. I liked the look of this Retro Top pattern on the Burda Style website, so decided to give it ago using that. Unfortunately the pattern is only available in a size 12, so I had to try my hand at drafting it up to a much larger size, which turned out not too bad. However I didn't mange to complete it in time for Christmas that year and completely forgot about it until i found it again a few months ago! However in the meantime I've lost almost 2.5 stone, so it was rather large on me! With the help of my friends at Liverpool Sewing Club I decided that rather than trying to take the side seams in I'd add waist darts at the front and back, giving it a more fitted look but also leaves enough room for Christmas dinner! 🙂
Here's to a great, sewing filled 2016!
Happy New Year
---