Recently I was given the opportunity to test a new pattern, the 'Waterfall Tank' for the fab indie designer Sew Caroline.
The Waterfall Tank is a really cute little tank top, aka a vest top, with a really pretty ruffled double layer top bodice, hence the name – waterfall tank. It is finished with bias binding, which is then used to create the straps, with 2 options here – either tie or fitted straps.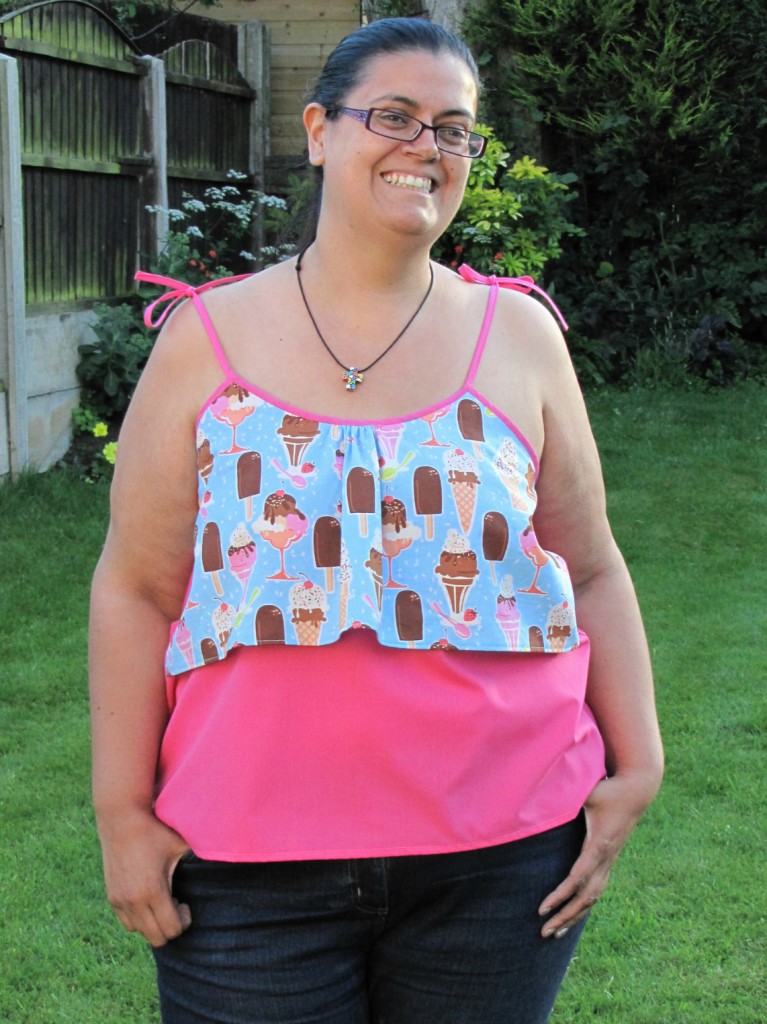 As soon as I saw this top previewed on Sew Caroline's Instagram  feed my mind immediately went to all those short lengths of funky and designer fabrics that I have and no idea what to use for other than a bag! I love the fact that there are so many different options for the waterfall tank you could o as I have and use a different fabric for the ruffle and main body. Or you could use 3 different fabrics, one for each section, or just use the same fabric and make your own bias biding – the instructions for doing this come with the pattern!
Having a rummage through my stash I found a lovely Michael Millar Ice-Cream fabric that I cough just under half a meter of last year. So off I toddled to my local Abakhan Fabrics store in Birkenhead and found a hot pink polycotton an bias binding to coordinate.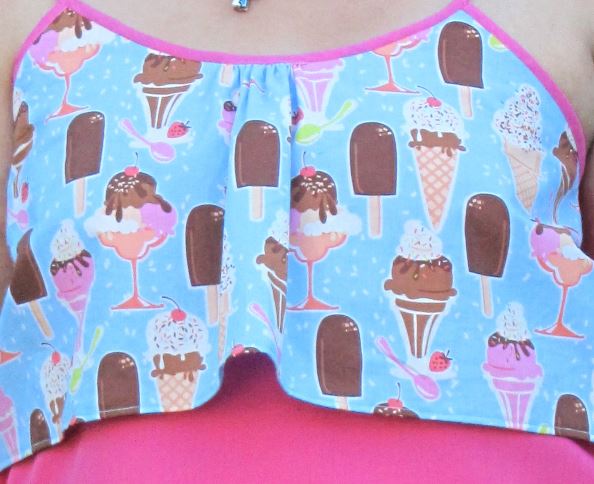 I chose the tie strap version as it looks like fun and I like the idea that I can wear it at different levels of revelling, depending on the situation! Sew Caroline's instructions are very easy to follow, with lots of useful photos and great instructions on making your own bias binding, if you choose to. Sew Caroline also suggests using French seams and offers great, easy to follow instructions for doing this, which is very handy.
I'd recommend the pattern for advanced beginners for the fixed straps as the mitred corners & French seams could be tricky for complete beginners. Otherwise it comes together very quickly and easily. From printing the pdf to completing it took me approximately 3 hours to make. The only change I made to the pattern was to grade up a little in the hips due to being very pear-shaped. For the next version I'll probably add a couple of inches to the length as being 5ft 9in and long bodied I prefer a longer length bodice.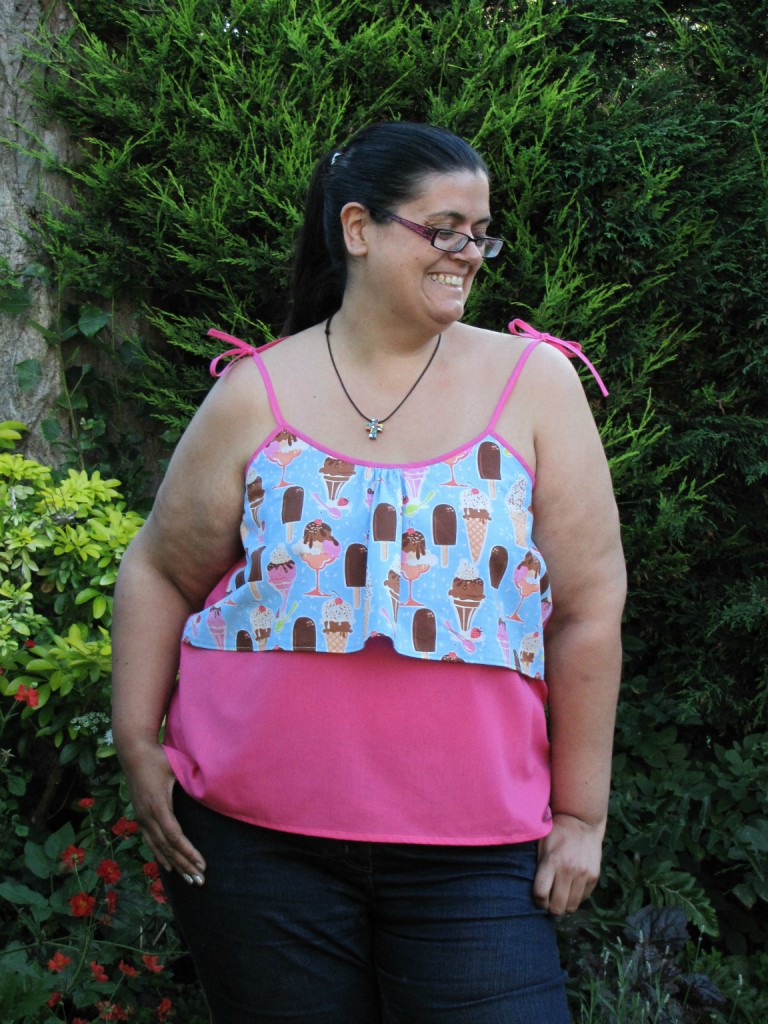 The waterfall tank is comfortable to wear and flattering to a pear shape like myself, especially if you use a different fabric for the ruffle as it draws the eye to my slimmest part! As it's a cotton, not jersey like most tank/vest tops, it skims over any problem areas, so again is more flattering. I feel that conformable in it that it's going on my summer holiday with me this year!
If you want to see more versions of this top in a variety of different fabrics and sizes there are two round ups on Sew Caroline's blog – Waterfall Tester Round Up Part One and Waterfall Tester Round Up Part Two
The Waterfall Tank pattern is now available from Sew Caroline's online store, so if you fancy making your own version then why not hop over there and take a look.
Have you made your own version, or have any ideas or suggestions? If so, why not let me know in the comments below.
---